Matthew J. Terry
President, Chairman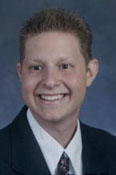 Matthew J. Terry is a Hodgkin's disease survivor and Founder of CureHodgkins.com, an online news magazine for patients and their families. Matt established CureHodgkins.com to provide an internet alternative to scientific clinical sites that ignore the human side of cancer. Stories and columns by survivors hope to spread a message of survivorship, empowering patients to take a positive approach to treatment and living with lymphoma. Matt has more than two and a half years of experience in the Hodgkin's Lymphoma community, communicating with hundreds of patients every year.
It was Terry's vision that led to the creation of the Violet Ribbon Campaign. Matt believes that the Hodgkin's disease community must be strong and united in able to go after research for new forms of treatment and improved quality of life. He also hopes to provide new systems of communication between patients and survivors.
Jill Robinson, MD, MBA
Secretary/Treasurer, Director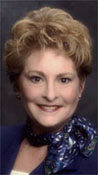 Dr. Jill Robinson's qualifications and passion arise from working with cancer patients in the field of women's imaging. Experienced at starting several new ventures, she was also the co-founder of the Southern California Eye Institute, a California non-profit corporation that helped educate thousands of physicians in advanced eye surgery procedures. Turning her enthusiasm to help form and shape the future of Violet Ribbon Campaign satisfies her need to continue to contribute to the community through awareness that will lead to added research and much needed new treatment. Dr. Robinson is the mother of a pediatric Hodgkin's disease survivor.
Erin N. Fry
Director

Ms. Fry is a Biology student at Scripps College in Claremont, California. Erin recognizes the importance of the emotional aspect of cancer treatment and hopes to expand communication between patients and survivors, as well as support for families and caregivers. Erin organized the Marrow Today Life Tomorrow Bone Marrow Drive last year in Southern California. Ms. Fry interest in Hodgkin's disease came while she was a main support in the treatment of a close friend.