The Violet Ribbon Campaign (VRC) is working to create a support community for those affected by Hodgkin's Lymphoma by uniting patients, families, caregivers, friends, medical professionals, and communities. Established in Sept. 2001, VRC was the vision of a Hodgkin's patient that no one affected by this disease should feel alone or unsupported through this very sensitive time in their lives.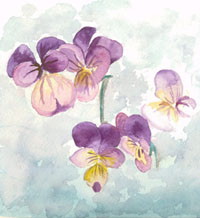 "African Violets" by Jeralyn Terry
VRC hopes to unite the community in support of Hodgkin's patients and their loved ones through the distribution of Violet Ribbons. The Campaign's mission is that through the united bond of the Violet Ribbon they will create communication, increase activism, and help fight for improved quality of life.
Proceeds from all donations go to research and support programs that directly benefit Hodgkin's patients and their loved ones.
For further resources or support for a patient or loved one, please visit CureHodgkins.com, the online resource for Hodgkin's Lymphoma information and assistance.